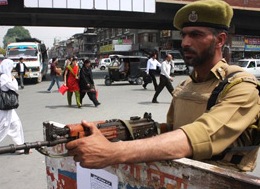 The primary duty of the Police is maintenance of law & order, protection of life and property of the people, detection and investigation of crime.
The Police Department is headed by Director General of Police.
The Organizational set-up/wing s of Police is given as under:-
1. Criminal Investigation Department(CID)
2. Crime
3. Railways
4. Security & Special Security Group
5. Traffic
6. Training Institutions.
7. Armed Police/IRP Battalions.
8. Police Telecommunication.
9. Home-guards/Civil Defence/Auxiliary Police.
10. J&K Police Housing Corporation.