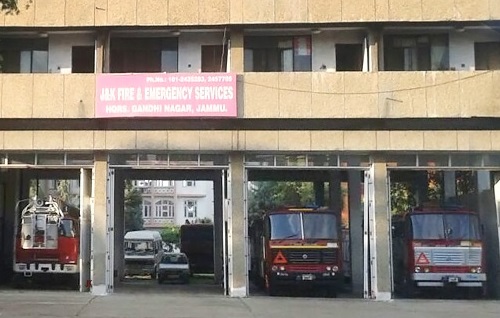 The Fire and Emergency Services Department (F&ES) has been created/ developed as a first responder in all life threatening situations originating out of fire related emergencies to providing of rescue services in case of natural and man-made disasters. The Fire and Emergency Services was established as 'Srinagar Fire Brigade' in the year 1893 and is the third oldest fire brigade in the country. Initially, the department was having 05 Fire Stations which have now gone to 175 Fire Stations and across the Union Territory.
The Fire Services was a part of J&K Police till 1978 and thereafter assumed as an independent Department within services of J&K Government. The role and scope of duties of the Department was enlarged to the responsibility of disaster management including rescue operations in the event of natural and man-made disasters in the year 2004 and the Department was accordingly renamed as "Fire and Emergency Services Department".
The motto of Fire and Emergency Services is "We serve to Save" and officers/ men of the Department are always a ring away from the call of their duties. Daring risky and life endangering situations, the Firemen have always risked their lives for the safety of others and made supreme sacrifices in the pursuit of their call of duty. The Department is indebted to sacrifices of these heroes.
The Department has procured high-tech fire fighting and disaster management equipments and is exploring options to consistently strengthen and improve the infrastructural availability in the Department. Training is also one of the core priorities of the Department to enhance the capacity building of the available human resources in tackling the emergencies.
---
Working of the department
To safeguard life and property of common masses.
Disaster Management.
Fire fighting and mitigation of losses in fires even during terrorist attacks, cross firing, bomb/ mine blasts.
Rescue during floods/ flash floods.
Dewatering during floods and heavy rains.
Providing of potable drinking water during floods as well as drought.
Evacuation of affected people in both rural and urban areas.
Search and rescue in the areas hit by earthquakes.
Fire Prevention Public Awareness through print and electronic media; conducting seminars, delivering lectures in public gatherings, educational institutions, conducting of inspections, fire auditing; risk assessment and recommendations thereof; mock drills in various industries and commercial/ Government institutions.
Establishment of Temporary Stations during VVIP visits, religious/ public gatherings, exhibitions, establishment of number of temporary Fire & Emergency Stations every year during Holy Amar Nath Ji yatra and other festivals
Upkeep and maintenance of large fleet of appliances, equipment and portable pumps.